I was readin the news yesterday as I usually do (tryin to keep meself streetwise and to see if anyone I know has been arrested) and I come across this story of a fella in China who sold his kidney for an I-Pad. Now whatever about sellin a kidney, sellin it for $2000!!!! A kidney has to be worth more than that! I would expect to get a BMW at least for a kidney with an I-Pad from the money left over, although I don't even want an I-Pad. I do want a BMW though!
So tell me, what value would ya put on a kidney?? I-Pad my arse!!
From RTE News
A 17-year old Chinese student has sold one of his kidneys to buy an iPad 2 and an iPhone.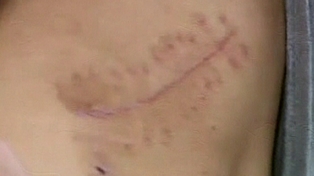 The boy, identified only as Xiao Zheng, meaning 'Little Zheng', from China's south-eastern Anhui province met a broker on the internet who said he could help him sell his kidney for 20,000 yuan (€2,059), a regional TV station reported.
In late April, Zheng travelled to Chenzhou in central Hunan province where he had his right kidney removed in a hospital.
His mother told reporters she was devastated by the news.
'When my son came home he had a laptop computer and an Apple phone. Where did all that money come from? Only when he could bare it no longer did he tell us. He said, Mum, I sold my kidney. When I heard it I felt like the sky was crashing down on our family,' she said, crying.
In an online conversation between Zheng and the middleman, Zheng left a message saying 'I want to buy an iPad 2'.
Another broker who organises the sale of kidneys in the Beijing area told reporters that they would normally pay much more for a kidney.
'We pay the same price across the whole country - the price is 35,000 yuan (€3,707), plus the bonus.
The bonus is between 2,000 and 10,000 yuan (€212 and €1,057),' said the middleman.
Zheng's mother alerted the police after she found out, but they were unable to locate the broker.
The hospital was not authorised to perform organ transplants, and claimed they had no idea about the surgery because the department had been contracted to a businessman from a neighbouring province, the report said.